The official Kriegstagebuch[1]engl: War Diary – often abbreviated "KTB" – of a unit represents the official recording of events that occurred, orders that were received, decisions taken, etc. of a given unit. There is no better way than the official KTBs to understand what was going on from a military point of view. Then, on the other hand, one should always consider that the "official" record might be reflecting the "official" view at times – and one can never be sure about how much propaganda eventually made it into the war diary.
At the highest level, I have been using the war diaries of the respective Armeeoberkommando (AOK) since my grandfather's unit was (mostly) attached at that level. I always tried to include the next level – the Armee-Korps (AK) – as appropriate. This usually means that I have tried to put my hands on the KTBs of those AKs that have been subordinate to the AOK of interest. Occasionally, I have drilled down to the level of the Division but only where of particular interest, either because of a direct relation to my grandfather's unit or because a particular Division is of exceptional interest.
As an example, the diagram shows you which KTBs are currently available for "Fall Gelb", the War in the West.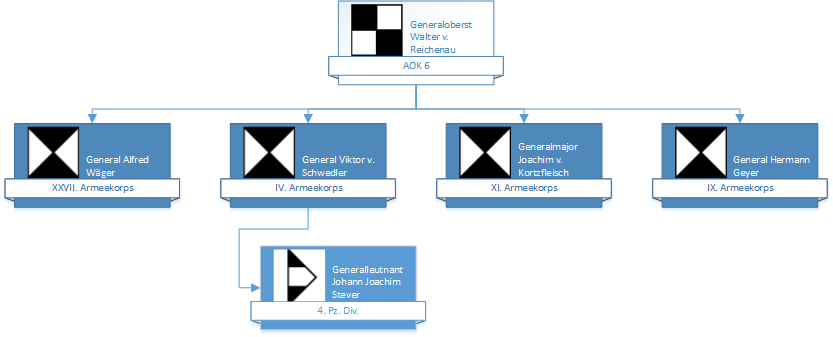 I have organized them as individual "streams" to make them easier accessible and I will not "reproduce" them as a whole but summarize as best as I can where I think the content will add to the overall picture.
For the War in the East, I will repeat the exercise as good as I can – let's see how that will work out when I get there.
"Fall Gelb" – Battle of Belgium
For the Battle of Belgium, the following KTBs are if importance (in relation to my grandfather's war diaries) and have been acquired:
Armeeoberkommando 6 (AOK 6)
IV. Armee-Korps
IX. Armee-Korps
XI. Armee-Korps
XXVII. Armee-Korps
In addition, the KTB of 4. Pz. Division is also available.