The Battle of Belgium is over, at least for my grandfather's unit. While Allied troops continue to withdraw from Dunkirk (and in the end, more than 330.000 men will have been successfully evacuated) my grandfather and his Commanding Officer are taking a tour of Flanders Fields.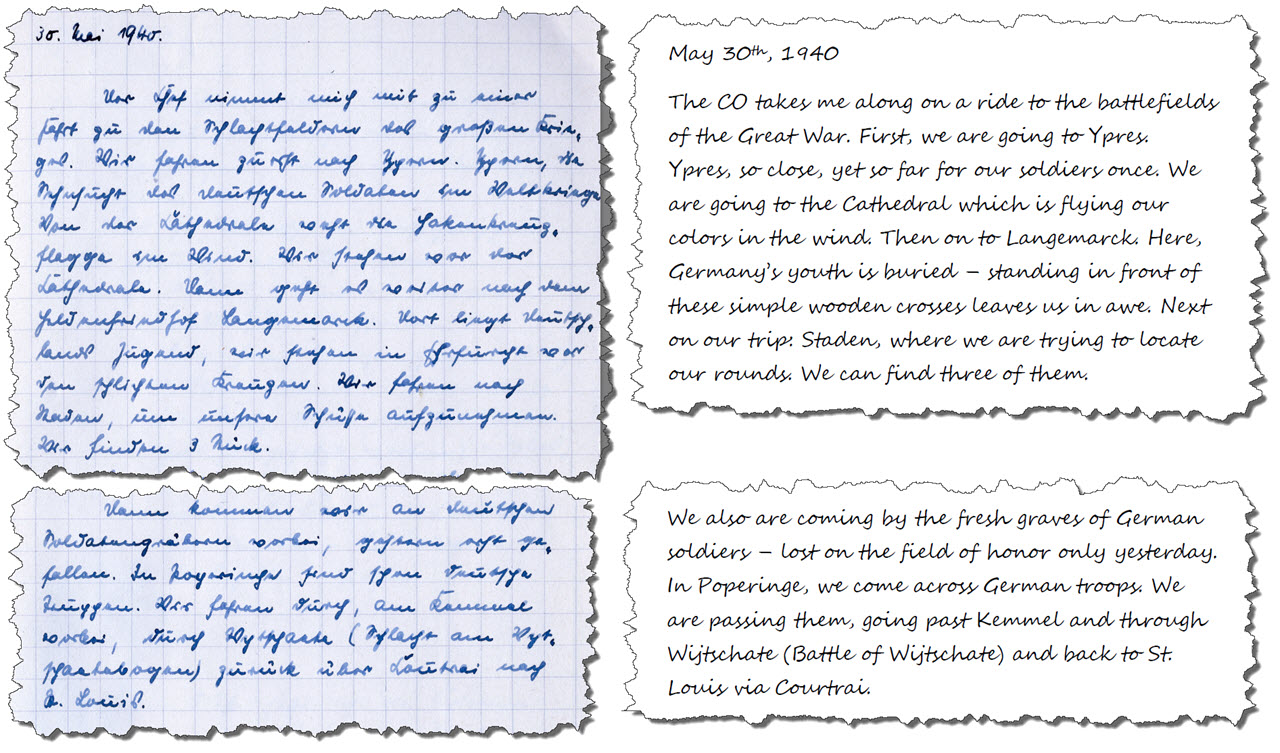 Their first stop is the city of Ypres (1) – Ypern in German. The diary's entry provides a fraction of a hint of my grandfather's thoughts: "Ypern, die Sehnsucht der deutschen Soldaten im Weltkriege." – roughly translated into "Ypres, the town German Soldiers had been longing for so much in the Great War" – or a bit more freely: "Ypres, so close, yet so far for our soldiers once".
To understand the line, one needs to know the following: the town was of strategic importance to the German forces in World War I – here, in the plains along the French-Belgian border, some of the most fiercely and and most horrific battles of the "War to end all Wars" were fought.
The city was never taken by the Germans but three battles were fought around it: the First Battle of Ypres in late 1914, the Second Battle of Ypres in Spring 1915, and the Third Battle of Ypres in 1917. The battles had no winners – the German Army never took the city, the Allied Forces never pushed the Germans off. The city was in ruins after the war and about 750.000 men had been killed or wounded or went missing.
Soldiers from the United Kingdom, Australia, Canada, India, New Zealand, South Africa, France, Belgium, Algeria, Morocco, and Germany are buried in Flanders Fields or on the numerous war cemeteries around Ypres.
And now – only 23 years later – Germany did indeed win the Battle for Belgium in just under 20 days. France would fall not much later. Which explains the obvious satisfaction of my grandfather when seeing the German flag over the Cathedral of Ypres.
They went on to the German War Cemetery at Langemarck (2). The little village is located to the north-east of Ypres and played a central role in the First Battle of Ypres: German reserve troops, led by inexperienced officers, were slaughtered in a skirmish without aim and result. To obscure the obvious waste of life, the German High Command issued a false version of the events, thus initiating the legend of a heroic self-sacrifice by Germany's youth. The myth was obviously maintained later – my grandfather's words recall it: "Hier liegt Deutschlands Jugend." – "Here, Germany's youth is buried." – of course, he is right but not in the sense of the myth: at Langemarck, about 44.000 German soldiers have been laid to rest.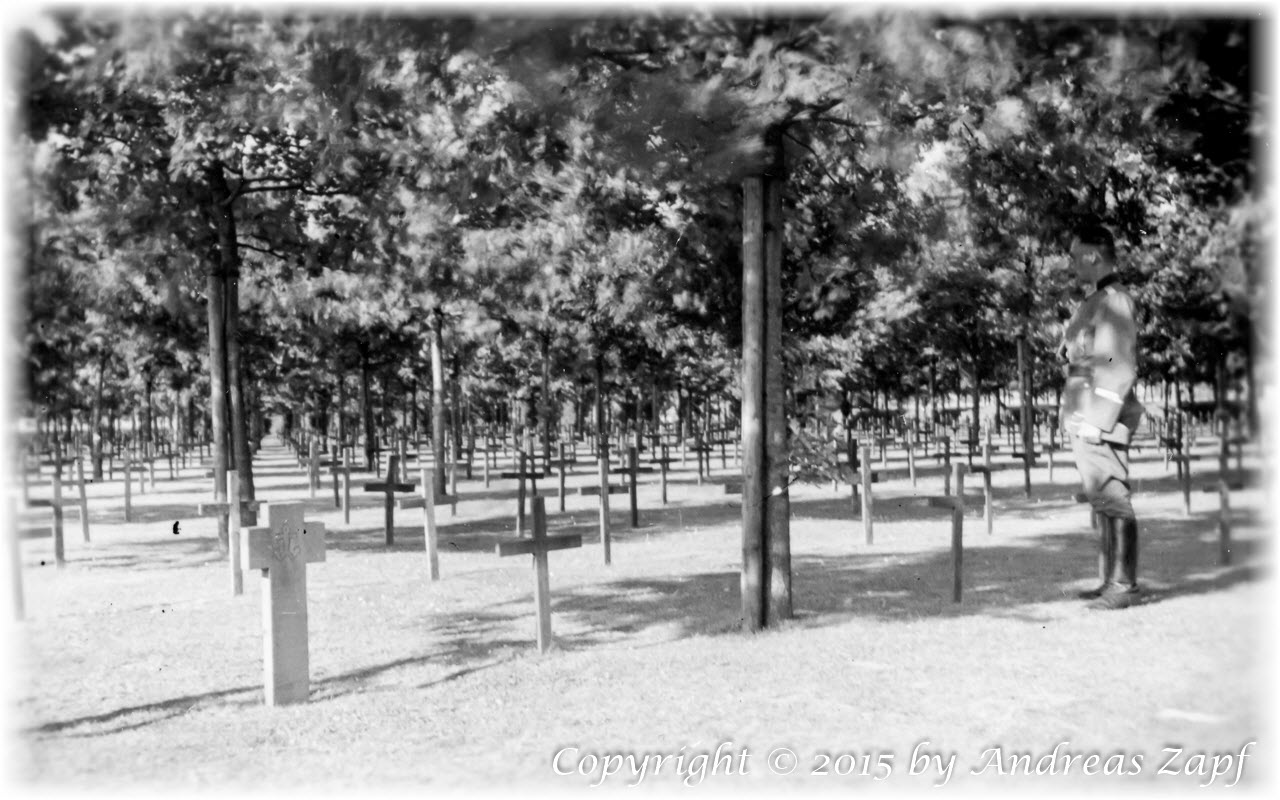 But my grandfather and his CO did not only pay tribute to the German soldiers of the Great War – the also must have visited at least the Canadian War Memorial Saint Julien on the other side of the town.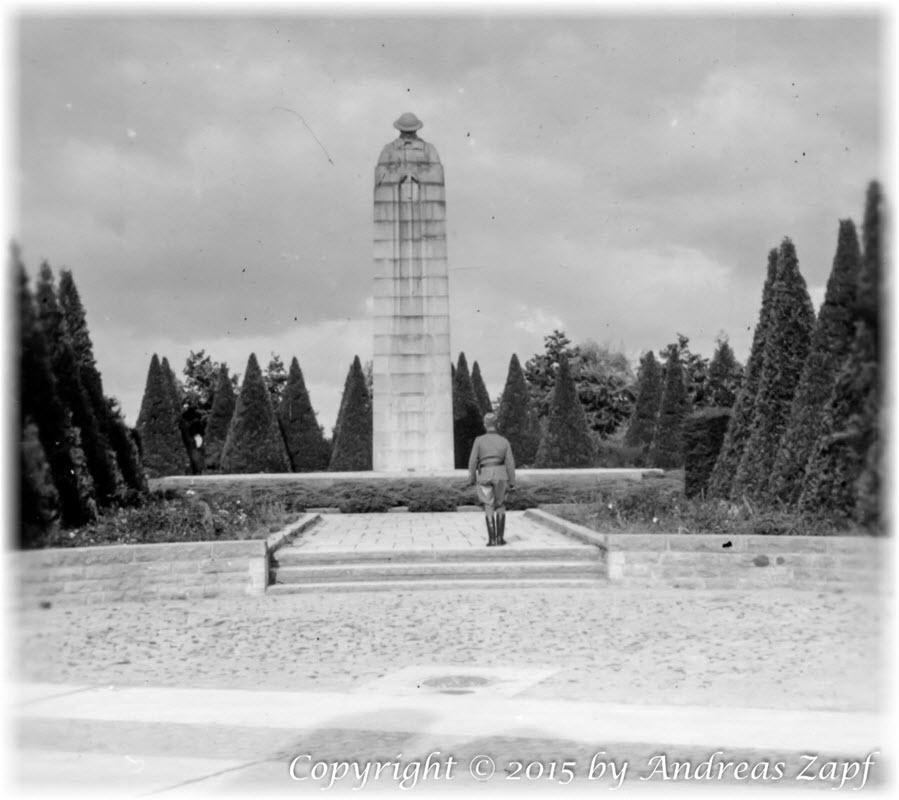 I would like to take this stop as a matter of respect for the fallen soldiers of other nations, certainly not as a sign of dishonoring the site.
But their tour is not all sight-seeing – it also serves a purpose: they are continuing to Staden (3), a town which they had fired their heavy artillery on only a few days ago. They are searching the impact craters – possibly an assessment of their accuracy.
Somewhere along their trip, they also came across a column of Belgian Prisoners of War. Showing their photo here is a tribute to them – they have fought bravely in a battle they could not win.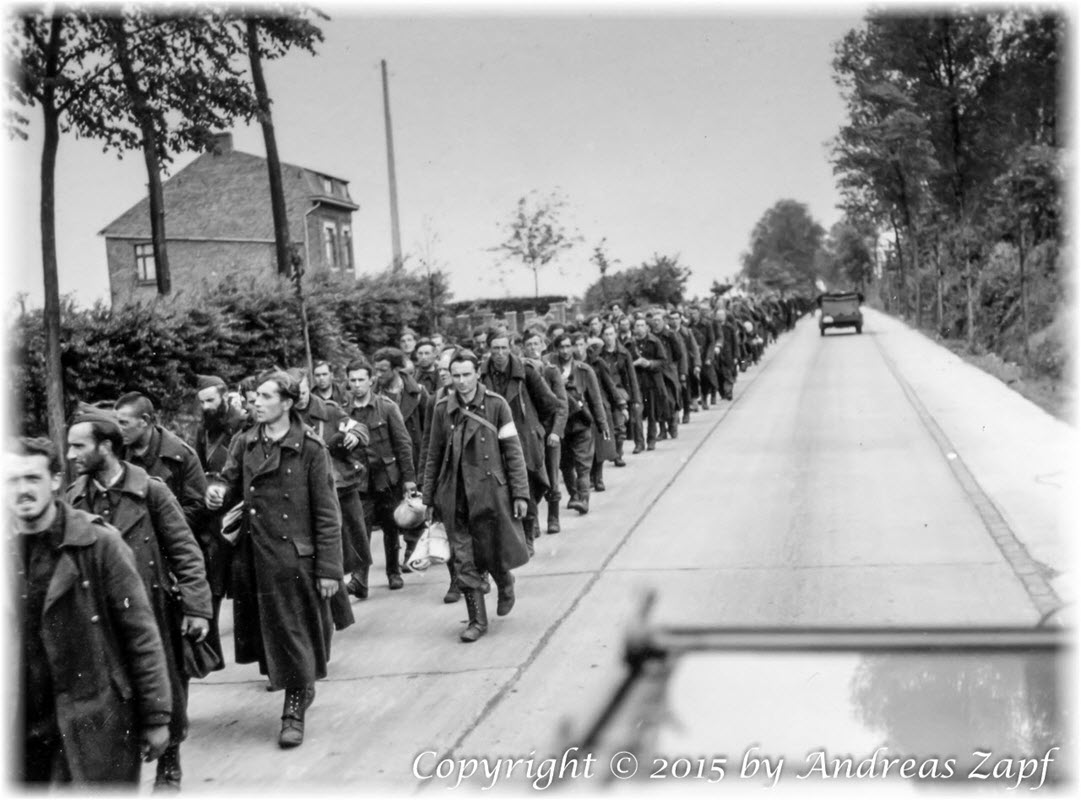 But they are not only seeing the Belgian Prisoners – they also come across freshly buried German soldiers. No further information but this is one of the passages in the diaries that almost provokes a personal comment:
From our position in history – 75 years after the events and with a good knowledge of where all this was leading to – it is easy to ask "Why did he not make a connection? Why did he just honor the graves of soldiers wasted no 25 years ago and not see the same happening over the graves of his comrades which had died only days ago? Shouldn't he have seen it coming? Couldn't he have known? It was all there, right before his eyes…" – to answer this question is much more difficult than to ask it.
I don't know what he was thinking – I don't know if he had been thinking about it at all. But if he did, we need to take into consideration that he – like many others – was a child of his times. His view of the world and on this war most likely was dominated by the view many in Germany had on the Treaty of Versailles and the resulting situation in Germany after World War I.
I can relatively safely assume this because of other documents we did find with the diaries and photos – on one of them, he did mark two of the goals the NSDAP has propagated: equal rights for Germany amongst other countries and cancellation of the treaties of Versailles and St. Germain.
It is not that he was forced to go to war – the diaries quite clearly say he wanted to. I also think, he was convinced of the course – they thought, they had a right to fight for Germany's goals, even at arms.
Considering that this was the message Germany was hearing right after World War I, through the time of the Weimar Republic and more aggressively after January 1933, I can only conclude: Propaganda is a powerful thing. And even intelligent and educated people (to whom I would count my grandfather) can fall for it. Absorb the ideas. Draw conclusions they feel to be right but are considered wrong afterwards. It does not excuse anything – but maybe it helps to understand. And prevent the same thing happening again one day…
Back to the diaries: after having found their rounds at Staden, they must have turned around and headed towards Ypres once more: in Poperinge, west of Ypres, they are encountering German troops, passing by, they are heading over to Kemmel (5) and Wijtschate (6) – more battlefields of World War I.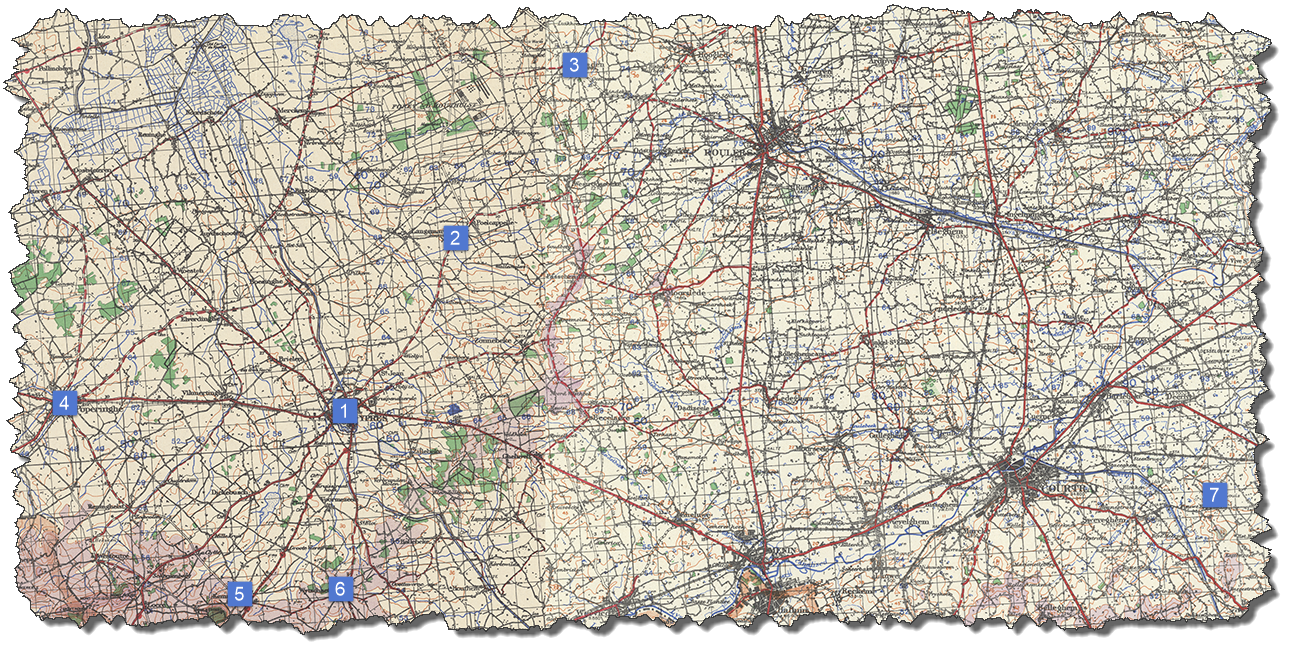 Finally, they have been heading back to St. Louis where they were still located – they would not engage in the fighting in Belgium again although the evacuation of Dunkirk would last to the first days of June and heavy artillery would certainly have been an option to interfere with it if the German High Command would have wanted to do so…
Instead, on June 2, 1940, my grandfather "adopts" a dog – a German Shepard he names Riko. It would be their last day in Belgium.