How this Site is structured
The information on this site has been compiled from a variety of sources – I call them "Streams". The primary stream – and the one that sparked it all – is The War Diary.
The War Diary is all about my grandfather's personal diary that he kept from 1939 to 1945, throughout the entire war.
The Personal Diary Entries
This is the "personal" Stream and for those of you that know WordPress (the underlying infrastructure of this site): this stream is organized as a series of "Posts" which allows me to put a date on each entry (the original date in the diary) and which allows you to navigate from one entry to the next entry by a link on each one of them.

Using the Date-Links allows you to navigate back and forth in time, just as if you'd be flipping the pages of the actual diary itself.
The Wrapper Pages
There is also a series of Wrapper Pages around the actual Diary Entries. These I have created to provide an overview and I usually tried to cluster a specific period of time in them – e.g. one for the entire War in Belgium, another one for the War in France.
Each one of these Wrapper Pages has one or more Calendars on it – and each calendar shows small, clickable icons where an actual Personal Diary Entry is present.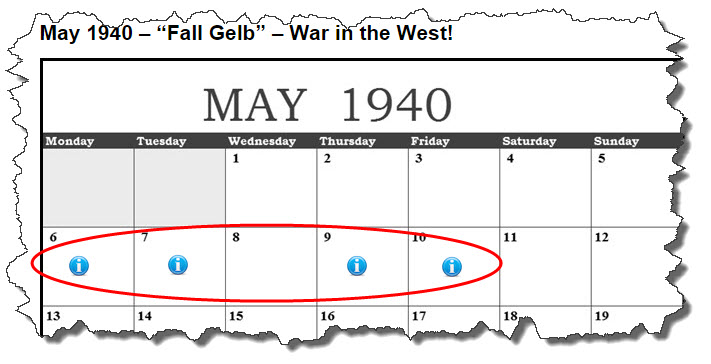 Hover the mouse cursor over an icon to get a brief idea what the entry is about, click the icon to open the entry in a separate tab.
The KTBs – official War Diaries
In addition to the personal view, represented through the Personal Diary Entries, there is the "official" military view, represented through the unit's Kriegstagebuch. The War Diary is thought as an augmentation to better allow an understanding of the overall situation. These entries are only partial reproductions and they are (in WordPress terms) organized as Pages. As such, they have no date and you cannot navigate back and forth with links as they are present in the Personal Diary Entries. The reason is simple: WordPress would not be able to distinguish between the personal and the official entries, it would navigate only by date, this mixing up the different sources.
To access the official War Diaries, please use the Main Menu or this link. For each one of the KTBs, you will find the same calendar-based navigation as described above – just different icons have been used.
Informational Posts about the Site – what's going on?
Finally, there are Informational Posts about the site itself – for example when I am taking a break, await material, etc. These are also provided as Posts (in WordPress terms) but their date is the current one – this makes them easily distinguishable from the actual Personal Diary Entries.